Hibiscus Package - $500.00
Ukelele Player
stationed at entrance door for about 45 minutes
Lei Greeter for 45 minutes (client provides lei supply)
20 Minute Mini Hula Show with dances of Hawaii (hula) only.
Photo Opportunity
Entertainment Package need to be completed within 90 Minutes.
COSTUME FOR THE HULA GIRL IS A TI LEAF SKIRT SET JUST LIKE THE PICTURE BELOW
THE MALE DANCER'S COSTUME COULD SIMPLY BE BLACK SLACKS AND ALOHA SHIRT.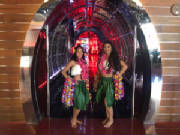 Plumeria Package - $800.00
A
Ukelele Player
stationed at entrance door for 45 minutes
2 Lei Greeters
usually stationed at entrance door for
45 minutes(client provides lei for guests).
The same 2 hula girls and warrior perform a 20 Minute Show - hula and tahitian dances
We provide our own speaker (similar to an ion blockrocker) no outlet required.
Photo Opportunity
Package need to be completed within 90 Minutes
HULA GIRLS CAN WEAR TI LEAF SKIRT COSTUME SET FOR HULA SONGS AND SHORT GRASS SKIRT COSTUME SET FOR TAHITIAN SONGS.
IF THERE IS A NOT A CHANGE ROOM THEN THE HULA GIRL CAN REMAIN IN ONE COSTUME SET DURING THE ENTIRE SHOW.
WOULD YOU LIKE US TO PROVIDE THE LEI? SILK LEI AVAILABLE AT $2.00 EACH. PLASTIC LEI AVAILABLE AT $1.00 EACH.
Need a DJ? Call "DJ Livinh" 702-589-1299.
50% Non-Refundable Deposit is required to confirm a show.
Remaining Balance is Due on the day of the show.
Please book at least 2 weeks in advance.
72 hour show booking require full amount to be paid.
A show booked within 24 hours will incur a 10% fee.
When you are ready to book a show:
An invoice will be emailed, 2nd page is the Credit Card Authorization Form.
There is a 3% transaction fee to use a debit or credit card.
We also accept cash, check or venmo.