SHOW PACKAGES
-includes picture session after the show program
Polynesian Package
1 Luau Show Director, 3 Hula Girls, 2 Warriors, 2 Drummers, 1 Fire Knife Dancer
Dances of Hawaii, New Zealand, Tahiti and Samoa
A 1 Hour Polynesian Show
*A 1 hour show requires several performers.
It takes a team of at least 6 performers to complete a decent 1 hour polynesian show.
For small parties we bring our ionblockrocker for sound which is a speaker on wheels.
Ion blockrocker is perfect for surprise parties and most backyard parties.
Ionblockrocker is fully charged ready to play and is very loud.
Speaker size is about 17" X 17", No outlet required.
For large parties please provide a DJ. We use an ipod for music.
For parties on the strip, convention center or downtown please provide the sound system.
Need a DJ? - Call "DJ Livinh" 702-589-1299
Need a fresh flower lei in town? visit www.hanaleisandhaku.com
Most frequently used costumes at shows. We perform dances of Hawaii, New Zealand, Samoa and Tahiti.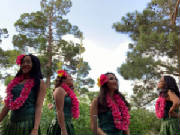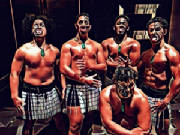 Rates subject to change without notice.
On holidays rates might be higher.
Shows on the strip, hotel, downtown or convention center will cost more.
To confirm a show, pay a 50% non-refundable deposit.
Remaining balance is due upon arrival.
Shows ordered 72 hours prior will require the full amount.
A show booked within 24 hours will be charged the full amount and a 10% fee.
A show that is ordered the day of will be charged the full amount and a 20% fee.
We accept venmo, cash, check or charge.
3% fee for debit or credit card transactions.
We do not perform on Sunday.